Well, I've finally gotten the chance to sit down and tell the story of my first ever bear hunt. Let me be right up front and say it was a great hunt and I'll definitely go back and do it again.
The destination for this trip was Lake Gogebic Michigan and the West Shore Resort. (
http://www.westshoreresort.com/
) It's located in Michigan's Bergland unit which is much coveted and one of the best units for chasing black bears in Michigan. It's absolutely beautiful up there in Michigan's Upper Peninsula and the area offers spectacular fishing and camping opportunities as well.
Our "Home" away from home for a week.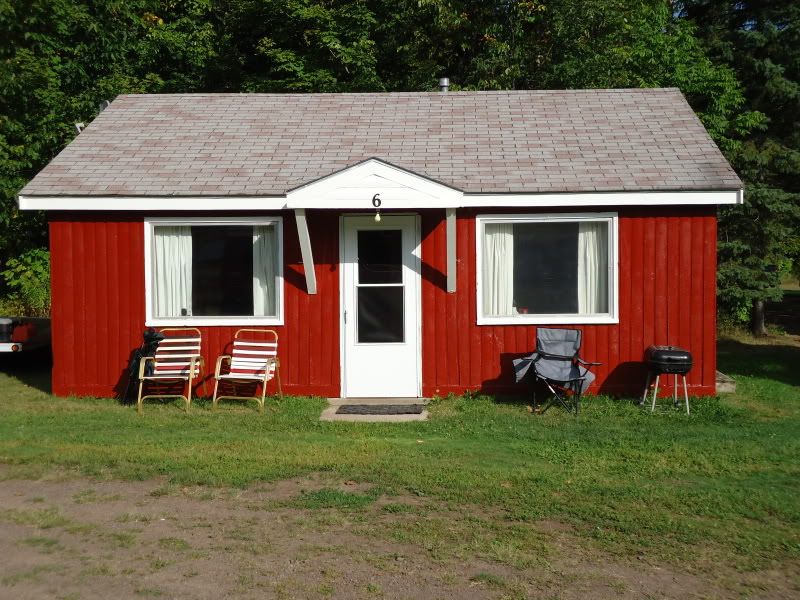 As I now work for the U.S. Army Corps of Engineers, I was deployed to Minot North Dakota when our 29th anniversary rolled around in July. So, while this "hunting" trip had been planned for a number of years, it also (consequently) became a get-a-way of sorts for my soul mate and wonderful wife (Julie) who has patiently put up with me through my many years of active duty in the Air Force and now being a civilian working for the Army.
On September 8th, we headed our truck over to the West Shore Resort at Lake Gogebic Michigan. Ron and Cindy (the owners) have been friends of ours for several years and we were also meeting two other couples who have been friends for many years as well. Our other friends have been meeting there in the fall for 20+ years and while Julie and I have stayed there in the summer, we'd never been there during the fall. This will now change as all three of the couples will now be continuing to meet every fall up here to bear hunt (when we have tags) and fish and enjoy the fall colors when we don't.
At any rate, we pulled in around 5 pm, moved our stuff into our comfortable cabin, and made the rounds between cabins of friends and owners. It was a great reunion and much food, refreshments and stories (mostly lies !!) were told and retold as we got caught up with each other's lives until it was time to turn in for the night.
Ed (left) and Tim are two close friends. I worked with Ed for a number of years.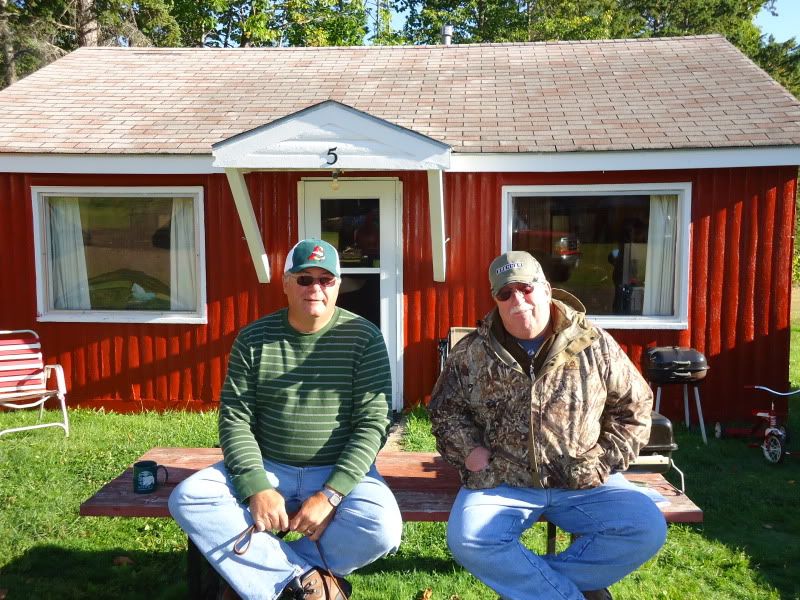 The morning of the 9th, I took my bow and a target out for a practice session. My arrows were flying just exactly where they had before we'd left home and after an hour I put everything away. About noon, Ron (the owner), Dwight (the only other hunter for this first session) and I loaded up our ATV's with bait and headed out to see our hunting areas, bait the stands and get set up for the next day. Michigan has a date which you can start baiting and Ron had been baiting since that legal start time. He had also set up trail cameras and he sends pictures to those who will be hunting at his place. I'd seen pictures of many different bears coming to his sites and he generally has great success in his area. Part of his success is the lack of dog hunters in his area, and part is the low number of hunters he takes. For example, he had 7 baits this year and 8 hunters. (The 8th was his father who would be using a bait site during the 3rd and last session.)
When I got to the stand I would be hunting, I went up and attached my Hunter Safety System strap, put up a bow holder, ranged the bait site (23 yards) and made sure everything would be in order for the next day. We all held a strategy session when we got back and since the bears seemed to be coming in (most of the time) after 3 pm, we decided to head out on our first day at 1 pm.
Below is our group heading out for day 1.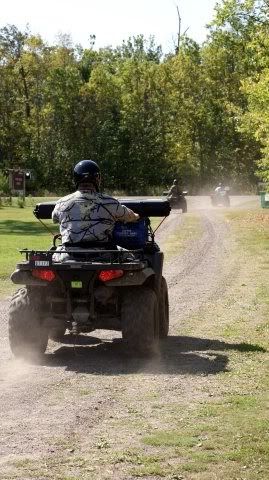 It was hard waiting around for the departure time on my first day of bear hunting. I got our my bow and shot some…made sure I had a decent lunch, took one last shower to reduce scent and dressed in time to be ready by 12:30. My ATV had my bow strapped to it and I was ready to go when Ron came by for Dwight and I. It was a seven mile drive through the swamps and maple/popular tree ridges on a snowmobile trail system to get to my stand. We dropped off Dwight at his stand (about 2 miles from where I'd be hunting) and while Ron baited and Dwight got settled, I continued on to my stand site. I parked about ¼ mile from the stand and walked in. Ron showed up in short order to bait while I got all settled in my tree stand. I took 2 practice shots and was right on. Ron finished up…retrieved my arrows and then he was gone and it was me and fate just waiting to see what might show up.
Ron setting logs back up after baiting.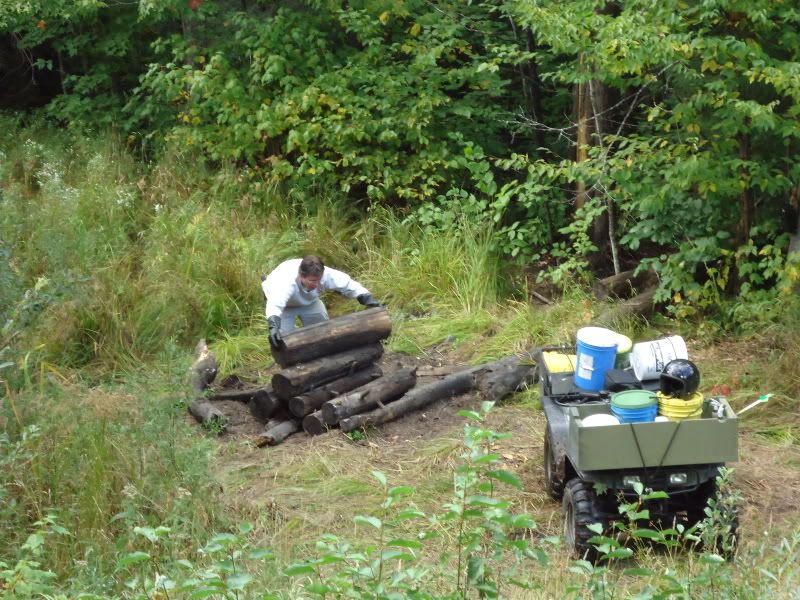 A number of years back I had a very serious back injury and now need to stand and stretch from time to time. So….after getting settled in at 2 pm….by 6, I was already feeling the pain and had stood up a few times. At 6 though, after looking around to make sure I didn't see anything, I quietly stood up and started stretching my back muscles out. First, I looked to my right and down the trail I'd walked in on….then I looked back to my left toward the bait. HOLY COW….there was a bear walking out of the woods to the bait pile!!
No bear at the photo below....but this is what it looked like from my view. Notice the racoon?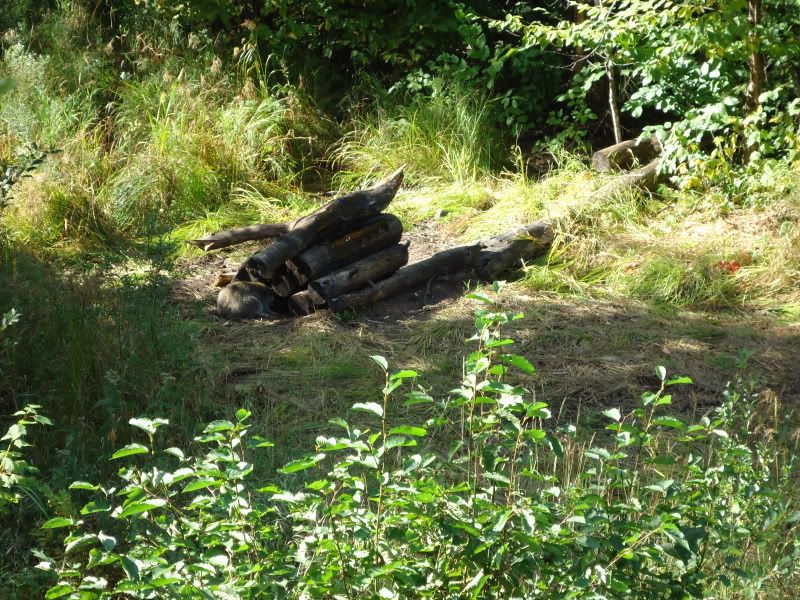 Right away I could tell it was a rather small bear. (Not much more than 100 pounds if I were to guess.) In fact….I honestly thought I'd see a mother come out as I thought this might be a cub. This little guy did not stick around long however. He sniffed the bait pile…and then walked directly into the woods on the other side of the opening. He'd only been visible for 15 seconds…..maybe. But I have to tell you, it was a thrill. It was the first bear I'd ever seen while I was in the woods and if the truth be known…..the only thing I wanted to call this hunt a success was to see a bear. I was pumped and excited! I'd seen my first bear and my hunt was a success. Even if nothing else happened….I was now satisfied. I settled back in with a huge smile and asking myself…."Did I actually just see a bear?" What a great feeling that was and it still thrills me! Below is the second bear that came it.
This photo is from the trail camera Ron had set up.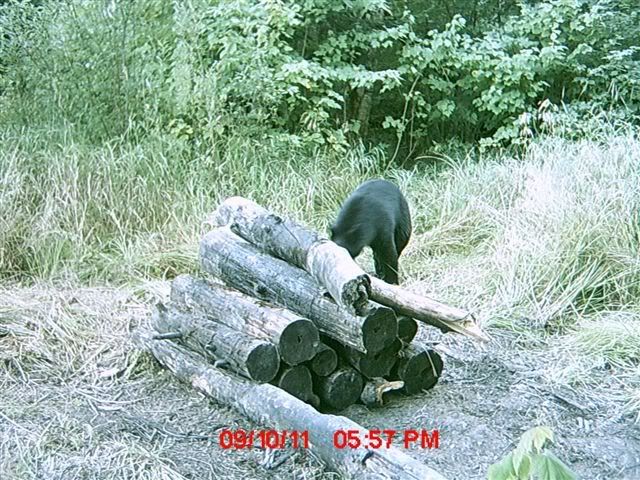 About 6:45, movement in the woods on the other side of the bait caught my attention. It was right where the previous bear had disappeared and I was wondering if the little fella was coming back. When he came out, I could see this one was slightly bigger, maybe 125-150 in weight. (This is actually the average size of a bear in Michigan despite what most people think.) Since I wasn't actually trying to break any records, and since this was my first hunt, I decided if this one gave me a shot, I'd take it. In short order, he was playing with logs and moving them around some and he was now broadside. I already had my Bear Truth II in my hand and quietly drew back my arrow and acquired my sight picture. I was surprised at how calm I was as I mentally reminded myself that it was 23 yards. I settled my 20 yard pin right behind his front shoulder as he was just barely quartering away from me and I started slowly squeezing the trigger on my release.
My bow fired and my Luminock flashed it's brilliant trail as it made its way and flew directly over the bear and the arrow buried itself into a log on the other side of him! The bear came unglued at that point and spun around looking for whatever was "attacking" it then bolted out of the area. I had seen it was a clear miss and was heart broke. My only condolence was that I knew I hadn't injured or wounded this animal. But, there in the log was my nock, now flashing at me like a light-house mocking me. I retrieved another arrow from my quiver and sat down with a feeling of shock that I had missed. I couldn't believe it. I then relived everything. My grip, my sight picture, everything was mentally checked. I made sure the screws in my sight were tight and I checked my arrow rest. I could find no reason that I shoot high. The only reason I could come up with, is that maybe I didn't bend at the waist and I might have dropped my arm. I remember telling myself to bend…but I was no longer sure I had. The feeling of disappointment was like a tidal wave of despair rolling over me.
However, as I sat there thinking things over….I heard a twig snap back where the bear had run off to. About 45 minutes later, here he came, back out to the bait pile he wanted. He was cautious, but he wanted the treats under those logs. In short order he was back to the log pile and I was sitting and waiting for a shot. My problem now however was the amount of daylight left. My legal shooting time limit was 6:51 pm on this night and it was now 6:36. The bear came out, then laid down beside the log pile and started reaching under it to get the treats! (I can't win for losing!)
Bear laying down beside the bait pile. The trail camera and I are opposite sides of the bait pile.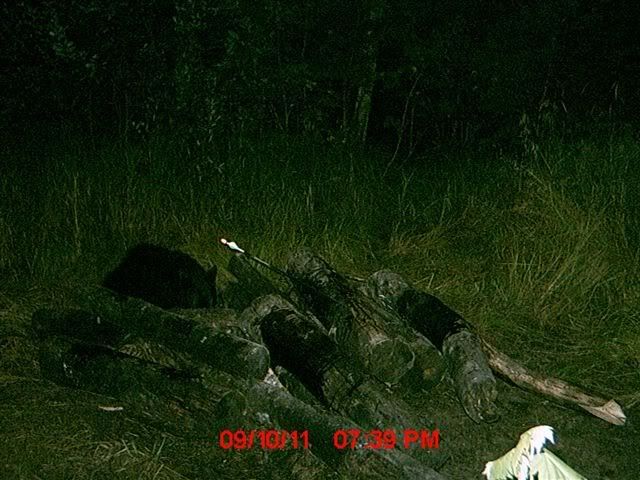 As I sat and watched this….I suddenly became aware of another bear standing on the other side of the bait pile. This brute was huge! Honestly, it's the only animal I've ever seen that made me shake. It was as big as my ATV and it was sitting there looking over the bait pile. I had enough time to wonder if I even wanted to shoot one that big. There was a very good chance my arrow would bounce off and he'd walk over and show me his displeasure! LOL
At this time however, the smaller bear laying down beside the bait pile also became aware of the monster just a few feet away. Remember now, there is a hierarchy of bears and they get their butts kicked by bigger bears when they are younger and smaller. Many times bears are killed by another over a food source or a territory. The smaller bear jumped up, spun around and tore out of there. Well, the bigger bear must not have seen the smaller one by the bait pile because that commotion scared him to death. He probably thought it was a bigger bear coming after him and he surely remembered getting his butt kicked before and didn't want any part of that again. He spun around and tore out also. Facepalm….. I couldn't believe how this was going. Here it was….now 6:42 pm……and both bears gone.
As I sat there shaking my head, a miracle took place. The smaller bear came right back in and stood there looking at where the bigger one had run off to. He was broadside, and now was my chance to get even. The game camera Ron had set up flashed and took a picture. Now I brought my bow up and got my sight picture. I made sure I had a loose grip….had my 20 yard pin right behind his shoulder…..and squeezed the trigger. It felt like the perfect shot and I watched my Luminock flew straight and bright as it went....... directly over his back and buried next to the 1st arrow I'd shot into the log!
Check out the picture of the bear (below) which the trail camera took just before I took my second shot. Is he actually smiling at me???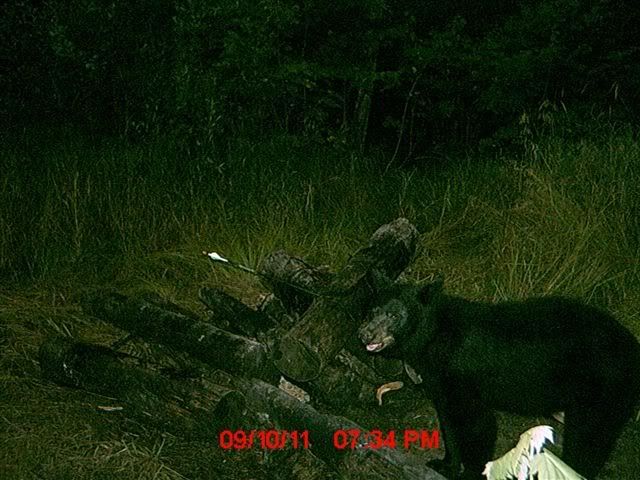 (2nd facepalm!!!) Needless to say, the bear tore out of there snapping his jaws in anger. I couldn't believe I'd gotten a second shot and was even more surprised I'd blown that as well. I know confession is good for the soul…..but how was I ever going to explain this? I checked my watch and was relieved to find I'd managed my second miss with a few minutes of legal shooting time left. Now, I let down my bow and went over to get my arrows. I was wearing rubber over-boots to keep scent down. I tried to pull out the one arrow which wasn't broken yet. (When the bear tore out, the log rolled over and broke one of the arrows off.) The second arrow was buried and didn't want to come out. I tried to wiggle it….and that didn't work either. I also didn't want to ruin the bait for later hunters so I just broke that one off as well and walked back to my ATV for the ride back to the resort.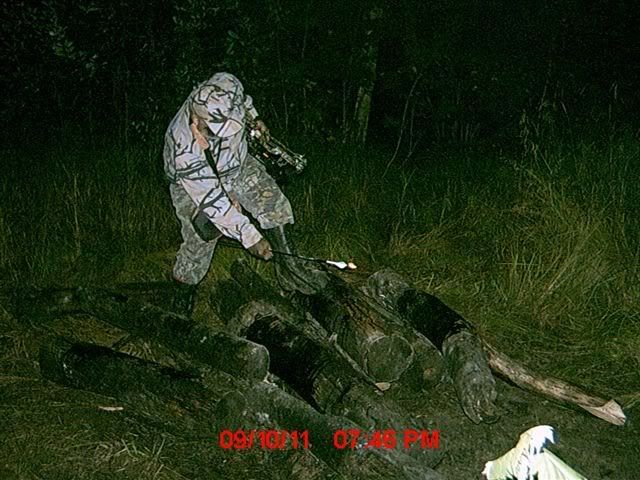 Ron and Dwight were waiting along the trail and I met them on the way back. We rode to the resort and my buddies and wife were all waiting to see the results of the hunt. I bore the burden of telling them how the nasty logs were keeping the bears away from the bait and how I had to shoot two of them. They questioned my story about shooting logs and insisted I'd really shot at the bear and missed. However, I stuck to my story!! (LOL) At any rate…..I didn't see any more bear during my hunt. The next few days we had rain, snow and sleet lots of heavy wind. I did manage to see raccoons almost every night, a rabbit who liked the bait, blue jays, a mouse and enjoyed some spectacular scenery. Dwight saw a cub and a mother bear twice while we were there, but didn't see anything he could shoot. I didn't bother hunting the last day of my session because it was my wife's birthday and I wanted to make it a special day for her. She has a high-school girlfriend who lives just 25 minutes from where we were staying and we got together with them for lunch and then spent the rest of the day together doing whatever she wanted to do.
Dwight and Ron are good friends.....I hope
All in all, the trip was everything I'd hoped for and more. We all fished in the mornings when I wasn't hunting and had great visits at night after I returned. The fact that I'd seen three different bears was the frosting on the cake. I would have been great If I'd shot one. But, by missing….my friends now have a story to tell which won't soon be forgotten. Now I can start building up my preference points for another bear tag which will probably take 3 to 4 years. In the preceding years…..we'll meet together and fish, enjoy campfires and friendships….and tell stories about how I hate the logs and keep shooting them!